Transcranial Magnetic Stimulation
About Transcranial Magnetic Stimulation (TMS)
Transcranial Magnetic Stimulation (TMS) is a non-invasive procedure for patients with major depressive disorder who have tried without success to relieve their symptoms with medication.
Approved by the Federal Drug Administration (FDA) in 2008, TMS therapy is an outpatient procedure that uses pulsed magnetic fields to stimulate nerve cells within the area of the brain thought to control mood. That ultra-targeted pulse, channeled through a coil placed against the scalp, sparks a small arc of electrical activity in the brain, which then sets off chemical changes that elevate a patient's state of mind.
The procedure has been shown to significantly improve the symptoms of severe depression and lessen their impact. NeuroStar Advanced Therapy, the provider of the system used at The Bradley Center, has now documented over a million treatments here in the U.S. with a rate of remission of 45% and positive results for 68%. Here at the Bradley Center, our remission rate is currently 49% with a positive result of 67%.
TMS Therapy is a treatment that can be performed in an office setting, under the supervision of a psychiatrist, using a medical device called the NeuroStar TMS Therapy system. NeuroStar TMS Therapy is:
Non-invasive, meaning that it does not involve surgery. It does not require any anesthesia or sedation, as the patient remains awake and alert during the treatment
Non-systemic, meaning that it is not taken by mouth and does not circulate in the blood stream throughout the body.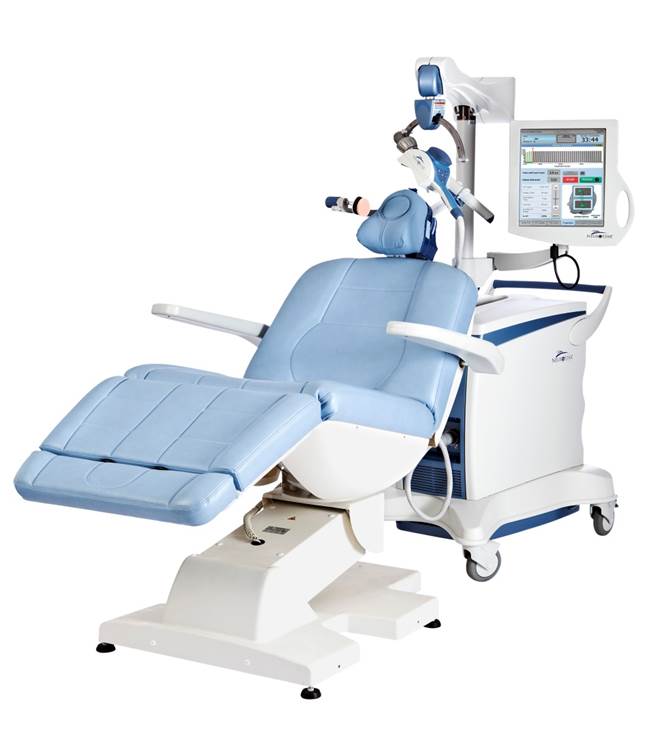 Patients undergoing TMS sit in a chair, resembling a recliner, while a treatment coil is precisely positioned over their head to emit targeted electromagnetic pulses, similar to those produced by an MRI machine. The patient is fully awake during the 37-minute session. They are able to read, converse, watch videos or listen to music during the brief procedure. When the session is complete, the patient is able to drive back to work or home without difficulty.
The typical initial treatment course consists of at least 5 treatments per week over a 4-6 week period, for an average of 20-30 total treatments. Each treatment session lasts approximately 40 minutes.
TMS Therapy Staff
Psychiatrists
Dr. Jaya John earned a degree in medicine and surgery from the University of Pune. She completed an externship and a second residency in psychiatry at East Tennessee State University. In 2007, she was ranked first among general psychiatry and med-psych residents by the American College of Psychiatrists, based on the Psychiatry Resident In Training examination at ETSU. Dr. John is a member of the American Psychiatric Association and Southern Medical Association and specialized in adult psychiatry. Dr. Rizwan Khan earned his bachelor's degree in microbiology from the University of Florida, graduating with honors. He earned his degree in Osteopathic Medicine from the Nova Southeastern College of Osteopathic Medicine and then completed a residency in psychiatry from the Medical College of Georgia. He has won numerous awards during his residency, including the prestigious E.J. Mcranie award.
TMS Coordinator
John Roop, MA, LPC, has worked in the mental health field since earning his master's degree in Professional Counseling from Liberty University in 1997. He obtained his license as a professional counselor in 2002. He has worked as a therapist and case manager in hospital settings, long term treatment facilities, and the state mental health system. He has also taught full time on the undergraduate University level and continues to teach part time.
About Depression
Depression is a serious medical illness affecting more than 14 million American adults every year. Often a debilitating disorder, depression results in a persistent state of sadness or loss of interest or pleasure which interferes with an individual's thoughts, behavior, mood, and physical health. Learn more about depression symptoms.
In 2000, the economic burden of depression was estimated at $83.1 billion in the US and researchers estimate that by the year 2020, depression will be the second leading cause of disability worldwide.
Depression can be a lethal disease. In fact, each year in the US, over 30,000 people die by suicide, 60% of whom suffer from depression. Overall, women are almost twice as likely as men to suffer from depression; however, some experts feel that depression in men is under-reported. Depression has no racial, ethnic or socioeconomic boundaries. About two-thirds of those who experience an episode of depression will have at least one other episode in their lives.
While the exact cause of depression is not known, the leading scientific theory is that depression is caused by decreased activity in the neural networks of the brain that regulate emotion and motivation. Increasing levels of neurotransmitters in the brain has been found to reactivate these neural networks, or create new networks. Neurotransmitters are chemical messengers that send signals between brain cells. Depression is most often treated with antidepressant medications. It is believed that antidepressant medications work by increasing the levels of these neurotransmitters. TMS offers additional treatment options for people struggling with depression despite traditional medication therapy. Learn about depression treatment options.
More than 4 million patients do not receive adequate benefit from antidepressants and/or cannot tolerate the side effects caused by them. For these patients, they need a new way back.
References:
Kessler, RC, et al. Prevalence, severity, and comorbidity of twelve-month DSM-IV disorders in the National Comorbidity Survey Replication (NCS-R). Archives of General Psychiatry, 2005 Jun: 62 (6):617-27.
Greenberg, PE, et al. The economic burden of depressive disorders in the United States: How did it change between 1990 and 2000? Journal of Clinical Psychiatry. 2003; 64 (12): 1465-1475.
Murray CJ, Lopez AD. Evidence-based health policy - lessons from the Global Burden of Disease Study. Science. 1996; 274 (5288): 740-743.
Heron, Melonie, et al. Deaths: Final Data for 2006. National Vital Statistics Reports, 57 (14). April 17, 2009.
Kessler, RC, et al. The epidemiology of major depressive disorder; results from the National Comorbidity Survey Replication (NCS-R). JAMA. 2003; 289(23): 3095-3105.
TMS + YOU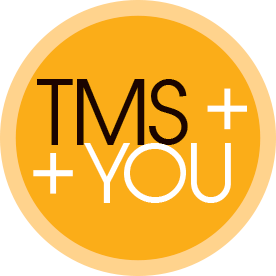 TMS+YOU is an online community and national patient advocacy site for TMS Therapy. Those considering Transcranial Magnetic Stimulation can connect with patients who have had the treatment to answer questions, share insights, and get the latest information.
TMS Therapy Testimonials
"I was severely depressed over a period of three years. I tried several antidepressants but nothing really seemed to work. I had a severe allergic reaction. My family was very poorly impacted by the whole problem of my depression. By the end of the TSM treatment, things were better than I could have imagined. After that six weeks, I was so excited that my life was starting to resume. It could actually get better and that I had more to look forward to." – Garret A.
"During that time, it was probably the darkest time in my life. I was sad and miserable all the time. Before when I was going through depression, I felt hopeless. Since TMS, my perspective on life has been so positive that I know there is hope." – Martha F.
To hear from more patients or to learn more about TMS Therapy, visit these websites:
National Media
Transcranial Magnetic Stimulation (TMS) has been featured in several prominent news publications highlighting its success in treating depression. Among these publications and television shows are: Dr. Oz, The Daily Buzz, TIME Magazine, Scientific American, Discover Magazine, and Good Housekeeping. See below for more news stories discussing the latest applications of TMS Therapy.
For more news articles featuring TMS, please see NeuroStar's Press Coverage page.