Yarbrough Named St. Francis-Emory Monarch Award Winner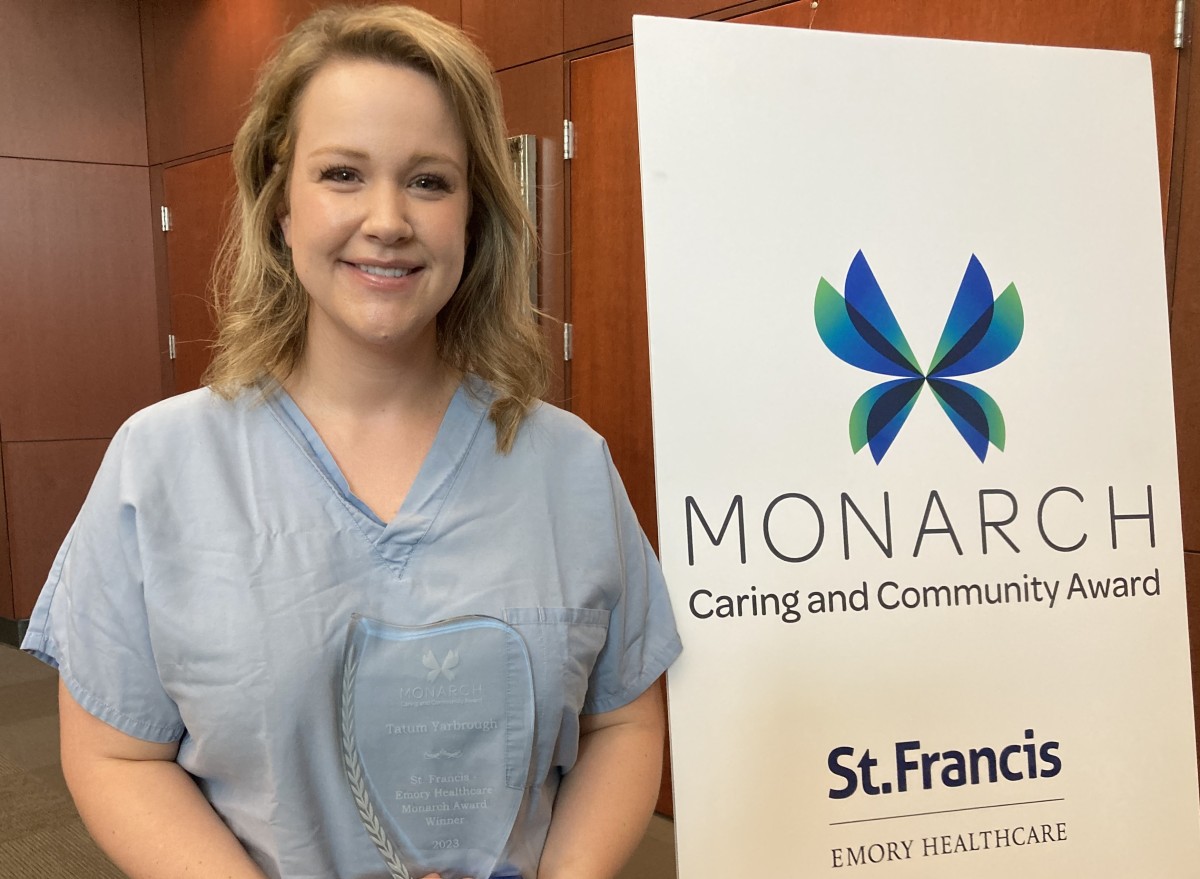 The Monarch Caring and Community Award is the highest honor bestowed upon members of the St. Francis-Emory Healthcare team. This year, our local award winner is Tatum Yarbrough, RN, Manager of Perioperative Services, who was selected by her peers across the organization.
"The Monarch Award recognizes exceptional, highly skilled caregivers who consistently go above and beyond to deliver excellent patient care and to elevate the patient experience," said Melody Trimble, St. Francis-Emory CEO. "Tatum personifies the traits of this award, with dedication to supporting her colleagues, the communities we proudly serve and through her unwavering personification of our values."
Yarbrough, a dedicated nurse leader with more than 10 years of experience at St. Francis-Emory Healthcare, was selected for the Monarch Award through a nomination process.
"Tatum approaches her work with a deep sense of both pride and gratitude," Trimble said. "She recognizes the immense privilege to be entrusted with the care of patients, viewing it as an honor to serve and make a positive difference in their lives. Tatum's genuine appreciation for her role as a nurse sets her apart, fueling her unwavering commitment to providing the highest standard of care."
Excerpts from Yarbrough's nomination demonstrate her nursing excellence. Her nominator recalled a time when one of her patients, who had experienced distress after a procedure, had been taken to the Post-Acute Care Unit PACU after surgery.
"Her patient was struggling to breathe and exhibited signs of fear and anxiety," the nomination read. "It was during this critical moment that Tatum's true character shone through. Without hesitation, she immediately rushed to the patient's bedside upon recognizing the severity of the situation. She seamlessly joined her team in providing necessary care and interventions, demonstrating her competence and ability to work under pressure.
"However, what truly overwhelmed me was the compassion and reassurance Tatum offered to the patient during this vulnerable time. In the midst of the chaos, Tatum took a moment to address the patient directly, saying: 'We aren't going to leave you. We are right here with you.'

"These simple yet profound words served as a powerful source of comfort and solace to the patient, providing the much-needed emotional support during a tearful moment. She has the ability to connect with patients on a deep level and alleviate their fears."
As the St. Francis-Emory Healthcare Monarch Award recipient, Yarbrough will be recognized with other local winners from the ScionHealth Community Hospital Division at the Caregiver Summit scheduled for later this year in Louisville, KY. Two national winners will be named, one from the community hospital locations (Community Hospital Division) and another from the Kindred, Cornerstone and Solara specialty hospitals and another Cornerstone senior living communities (all of which combine to form the Specialty Hospital Division).
Read All Posts