August is Immunization
Awareness Month
One of the safest and most effective ways we can protect not only our health but the health of others is by getting vaccinated against preventable diseases. Immunizations are recommended for all ages, from birth through senior adulthood. Following recommended vaccination schedules can help ensure that you and your family stay healthy and protected from preventable serious disease. And it helps make your community healthier too, by reducing the spread of infectious illness.
August is National Immunization Awareness Month and a time when many of us are gearing up for another school year – perhaps in person for the first time since spring of 2020. So, it's a perfect time to check your child's immunization record, make sure they're up to date on recommended vaccines and make an appointment with their pediatrician to make up for any that are missed. And while you're checking on theirs, don't forget to double check yours, too. Adults can benefit from vaccines as well, including some that can help prevent illnesses like shingles, hepatitis A and B, and certain cancers that can result from disease infection. Below is a quick, at-a-glance breakdown of recommended vaccinations for different ages.
Recommended vaccinations for children and adults alike may alter depending on factors like health conditions, lifestyle and other characteristics, so it's important to maintain a good dialogue with your primary care provider and pediatrician on which immunizations you and your family should receive and when. And if you're an adult who may have missed some of the recommendations above, you may be able to get catch-up immunizations. Check with your provider about what's right for you.
If you have not yet received your COVID-19 vaccine, please consider doing so. Pfizer and Moderna COVID-19 vaccines (2 dose regimen) and the J&J COVID-19 vaccine (1 dose) are authorized for ages 18 and up, and the Pfizer vaccine (2 dose regimen) is authorized for ages 12 and up. If you are female and between the ages of 18-50, the J&J vaccine is accompanied by a rare but increased risk of thrombosis with thrombocytopenia syndrome (TTS). Talk with your provider about the right COVID-19 vaccine for you.
Our health means everything, and immunizations can have tremendous benefits when it comes to protecting your health and that of your family and community. Make sure you're up to date on yours today. For more information on immunizations recommendations by age, visit www.cdc.gov/vaccines.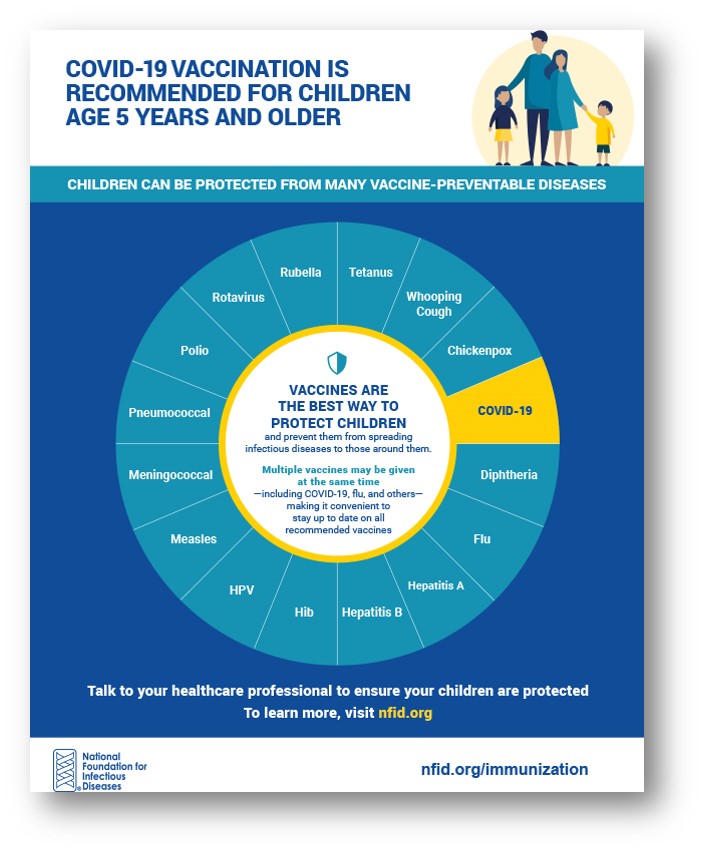 Read All Posts