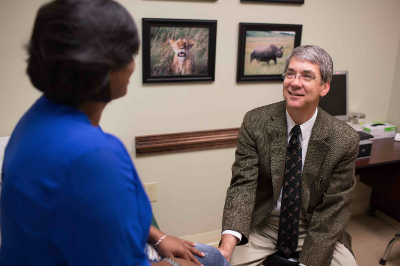 Thanks to joint aches and pains, many people find that everyday activities like gardening, biking, golfing, and even playing with kids or grandkids may bring more pain than pleasure. If you can relate, we may be able to help. Answer a few questions to see if you should speak with a provider about finding the right treatment to help put the go in your get-up-and-go again.
Specialty Services
Adult Reconstructive Surgery – Our surgeons provide comprehensive surgical care for patients with traumatic injuries. Our medical staff includes fellowship-trained trauma specialists as well as a dedicated team of rehabilitation providers, nurses and technicians. As nationally recognized leaders and experts in trauma surgery, our orthopaedic surgeons also give their time and expertise to teach and train other healthcare providers. Luther H. Wolff III, MD, is fellowship-trained in adult reconstruction and orthopaedic trauma. Having served two tours of duty in Iraq and Afghanistan as a combat surgeon in the US Army Reserve, Dr. Wolff has seen and treated the entire spectrum of orthopaedic injuries.
Foot and Ankle Surgery – Providing comprehensive surgery for foot and ankle disorders, St. Francis is one of the few providers in our region that offers total ankle replacement as an alternative treatment for degenerative arthritis of the ankle. When operative treatment is needed, our experienced surgeons provide expert care. Last year, the primary surgeon Lee McCluskey, MD, performed more than 800 surgical procedures.
Hand Surgery – With a fellowship-trained hand specialist on our medical staff, a variety of surgical procedures are available including endoscopic carpal tunnel release, reconstructive surgery of the hand for arthritis, nerve repair, trigger finger release, and repairs of the hand or wrist after sports injuries or falls.
Joint Replacement - The St. Francis Joint Replacement Center offers many treatments for the more than 100 different arthritic conditions. Our highly experienced surgeons provide operative care for the arthritic joints of the upper and lower extremities. We are able to provide treatment options for arthritis through surgery ranging from arthroscopy to osteochondral allograft transplant, to osteotomy and total joint replacement.
Patient education is a key to successful surgical outcome. The St. Francis Joint Replacement Center educates patients who are undergoing total joint arthroplasty. We have developed joint education classes that patients attend before surgery. The classes fully inform the patient and his or her family about everything that will occur while in the hospital. During the classes, patients also complete a thorough preoperative workup and evaluation.
Over the past four decades, total joint replacement has evolved into a highly successful operative treatment for arthritis. Both primary and revision arthroplasty of the upper and lower extremities are available at St. Francis. Additionally, we offer less-common joint arthroplasty procedures, including unicompartmental knee replacement, patellofemoral arthroplasty, hip-joint resurfacing and computer-assisted surgery.
Keeping pace with developments in the technology of implant design, our surgeons can perform cemented or un-cemented total hip replacement with the conventional metal on highly cross-linked polyethylene implants, ceramic-on-ceramic implants, or large-head metal-on-metal implants. While we typically use conventional cruciate-retaining or cruciate-sacrificing implants in total knee replacement, but we also offer trabecular metal, gender-specific, and high knee-flexion femoral implant designs to meet the patient's needs.
We provide regional anesthetic at surgery as well as intraoperative medications. Use of these agents results in less postoperative nausea, vomiting and lethargy and in better postoperative pain management, which enables patients to mobilize early and recover better. We also use less-invasive, minimal dissection, limited-incision surgical techniques. Compared with conventional arthroplasty, these techniques cause less trauma to the surrounding soft tissues and muscles and enable patients to recover with better pain control and markedly improved function.
The Joint Replacement Center also focuses on helping the patient control pain during his or her hospitalization, get moving the day of surgery, participate in more aggressive physical therapy, and discharge to home or a rehabilitation facility two or three days after surgery. After surgery, patients are transferred to a dedicated orthopaedic floor that caters to their needs. Our nurses are well trained, highly motivated, and eager to provide top-of-the-line care. The surgeons, nurses, physical therapists, occupational therapists, dieticians, and case managers work as a team to improve the care and provide outstanding surgical outcomes to the patients of the St. Francis Joint Replacement Center.
Shoulder Surgery – With surgeons who are regionally, nationally and internationally recognized leaders and experts in shoulder surgery, St. Francis provides a full range of shoulder and elbow surgical procedures. George M. McCluskey III, MD, leads the dedicated team of shoulder surgical specialists along with shoulder therapists, athletic trainers, nurses, and technicians.
Knee Pain Assessment
We're here to keep you moving.
Whether it's running that half-marathon or skipping around the backyard with your grandchildren, we know it feels good to move. And it's frustrating when pain stops you in your tracks. At St. Francis, we offer comprehensive diagnosis, treatment and rehabilitation for a full range of orthopaedic problems, with unmatched expertise from the region's most respected authorities in orthopaedic surgery and joint replacement and a dedication to quality, compassionate care.