Postpartum Screening in a Pandemic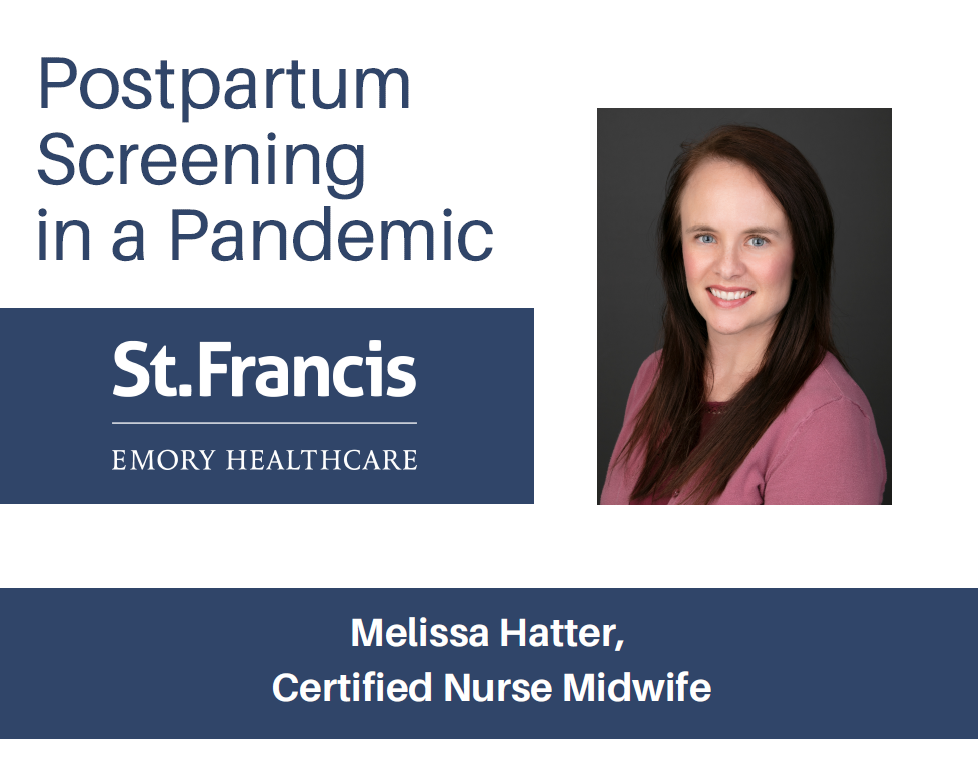 According to Postpartum Support International, perinatal mood disorders constitute one of the biggest health crises in America today, affecting one in seven childbearing women. Many think of the traditional "natural stressors" related to pregnancy and childbirth such as alterations in the physical body, changes in relationships and self-identity, or hormonal shifts associated birth and recovery.

These often don't create any health care issues for many women, but coupled with the addition of the unnatural expectations that women, their families, and society have for what a childbearing woman can or should be able to do, a mental strain may develop. This can potentially lead to abnormal responses such as depression, anxiety, obsession, delusion, hallucination, and intrusive thinking. All of these may be classified as perinatal mood disorders when associated with the childbearing period, including preconception, pregnancy, birth, and postpartum periods. And all of these are significantly detrimental to the affected woman and her offspring, partner and family.
Many women today are stretched to the breaking point when faced with a cumulative effect from:
Single parenthood
Single-income households
Increased demands on time
Pressures of social media and peers to portray the "perfect family"
A decrease in extended family support
Recent studies indicate in addition to the anticipated 15% of women who develop depression after childbirth, the past two years have put an exponentially higher level of pressure on childbearing women, potentially resulting in a higher incidence of perinatal mood disorders.
Many childbearing women in the US have felt an effect on the ability to choose a provider, a place to birth, or a reduction of support persons available due to the pandemic. Women have experienced separation from loved ones during childbirth, or separation from their newborns due to COVID-19 infection at the time of delivery.

It is even more critical that women have education, support and access to care providers in order to be readily screened and treated for perinatal mood disorders. The American College of Obstetricians and Gynecologists recommends that all women be screened for postpartum depression within three weeks of childbirth.
Before the pandemic, providers at OB-GYN Associates, in partnership with St. Francis-Emory Healthcare, created a formal postpartum depression screening protocol. All patients are scheduled for visits with their primary nurse-midwife or obstetrician within two to three weeks of being discharged from the hospital following childbirth. This visit was an opportunity for providers to touch base with postpartum women on depression symptoms, in addition to evaluating breastfeeding concerns and having an early discussion about contraceptive options that would be available to them at their routine six-week follow up visit.

That changed in March 2020 as the pandemic began. Many medical offices reduced their service hours and limited well-patient visits as much as possible to reduce the risk of exposure to COVID-19, and the availability of postpartum depression screening became much more complicated. Many women did not want to leave their homes at that time because of the risk of being exposed and bringing an infectious disease home to their newborns. Women were also advised to leave their newborns at home rather than bringing them to the office visits to reduce infection exposure, which heightened concerns around interrupting breastfeeding.

OB-GYN Associates adopted a forward-thinking model implementing telemedicine as a reasonable alternative for women who were considered low-risk and who were not required to have lab work or imaging done at a particular visit. OB-GYN Associates offered these types of visits for women who were in quarantine, who had children at home due to school closures, or who had a preference to avoid public places when possible. As a result:
The two to three week postpartum visits to screen for postpartum depression were transitioned to telemedicine visits by October, 2020.


As more patients were screened using this method, it became evident that women truly appreciated the option to stay home for this initial postpartum visit. It was convenient for them, their families, and the providers.


OB-GYN Associates has also established relationships with several mental health providers in the area, including St. Francis Psychiatry, in order to facilitate women making appointments with appropriate providers to address their current needs.


As the pandemic has evolved, and most of care has been returned to the clinic, the postpartum telemedicine visit has been sustained. It has been successfully integrated into the routine postpartum care model of the practice and is just one example of the evidence-based, patient-centered care offered by the providers of OB-GYN Associates.
The future of families and society is dependent on the wellbeing of the women who bring life into the world, who raise up the next generation, and who lead through their endurance and sacrifice. It is imperative that maternal mental health be a priority every day, and the providers of OB-GYN Associates are committed to helping women recognize and access treatment for postpartum depression.
Certified Nurse Midwife Melissa Hatter Hatter completed her master's degree in nursing as well as her nurse midwifery training at East Carolina University in Greenville, NC, after earning her BSN from Capstone College of Nursing at the University of Alabama. Prior to becoming a midwife, she worked in maternal care or labor and delivery positions at several hospitals. She has more than 10 years of experience, working first as a nurse, serving at DCH Regional Medical Center in Tuscaloosa, AL, as well as at Chesterfield General Hospital in Cheraw, SC. She began her practice as a Certified Nurse Midwife in 2012 with OB-GYN Associates of Montgomery in Alabama.
Read All Posts